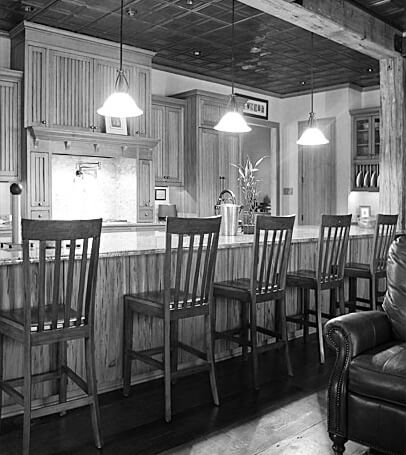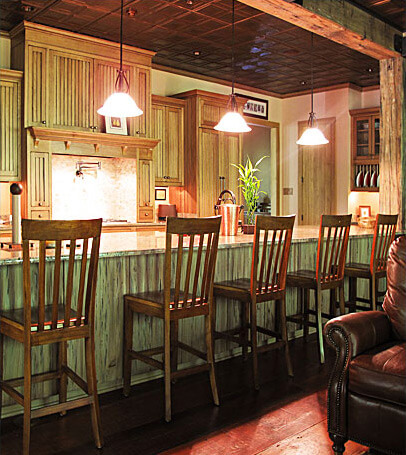 Custom
Years ago, Jackson Cabinetry was originally Jackson Custom Woodworks. Specializing in antique reproduction furniture, Jackson Custom Woodworks was producing furniture for several years before making the switch to kitchen and bath cabinetry. Building cabinetry with the look and feel of fine furniture was seamless transition. Our employees are proud of the product we make and it shows in our finished product.
STANDARD CASE CONSTRUCTION
We use a ¾" case with solid backs with ½" nailing strips. We use a birch plywood box with a finished interior. Concealed stainless hinges and a soft close feature is available as an option.
Drawer Boxes Our drawer boxes are 5/8" maple solid wood dovetail and standard are full extension soft close drawer slides.
DOORS
Raised Panel doors are typically reproductions of period styles, or variations thereof. As the name implies, this type of door includes a panel, or multiple panels, that are slightly raised up to create a classic dimensional look. The panels fit into grooves in the door stiles (the horizontal pieces that form the top and bottom of the door frame) and the door rails (the vertical frame pieces, side to side). The panels are not glued, but rather, float within the grooves to allow for the wood's natural expansion and contraction.
Recessed Panel doors are basically Raised Panel doors in reverse, as the center panels set back from the stiles and rails. Recessed Panel doors also create an appealing dimensional look.
Flat Slab doors are just as the name describes. Because of their simplicity, they fit well within a variety of looks, from traditional to transitional to contemporary.
FINISHES
Unlike semi-custom and stock cabinetry, choosing custom cabinetry gives you the freedom to choose a finish – or finishes – that make your cabinetry one and only yours. Especially when you choose Jackson Cabinetry. Finishes are available in stains, stains with glaze, clear tones with glaze, paints, distressed finishes, rub-through finishes and high-gloss finishes. And that's just skimming the surface. Truth is, if you have a finish in mind that we haven't yet created, we'll create it for you. We do it all the time – and at a cost that's considerably lower than other custom cabinetry companies. Unlike semi-custom or factory cabinets, our finishes are applied by hand.
Our finishes utilize the latest in green technology. We are proud to say that we use only water based products. The switch was for two reasons. Due to health risks and environmental considerations, we felt going green was the logical thing to do. Our lacquers are considerably less toxic and more environmentally friendly.
WOOD SPECIES
There's nothing like beautiful solid wood to bring out the best in a kitchen, bath or any room in your home. With custom cabinetry, your choice of wood species for your cabinetry is quite plentiful. How you choose is a matter of personal taste. Perhaps you want a rich, dark look with very little to no grain. Or maybe you're looking for light and bright. Or a rustic feel. The wood species that make up the lion's share of our work are Cherry, Maple, Knotty Pine, Red Oak and Walnut. But there are many more species to choose from, including exotic woods such as Carmelized Bamboo, Quartered Black Walnut, Quartered Figured Anigre, Medium-Heavy Birdseye Maple, Reconstituted Wenge, Reconstituted Zebrawood, Quarter Sawn Cherry, Rift Cut Oak, and Quarter Sawn Maple. But wood species selection is just the beginning. The finish you choose for your wood can greatly affect the personality of your cabinetry. And your finish choices are many. Working with a design professional to find the perfect combination of wood species and finish is a big part of creating your one and only. And, of course, paint grade wood (usually Maple or Poplar) gives you the freedom to create a painted look – including special finish treatments – that's just what you're looking for. Here is some interesting information about the characteristics of some of the wood species we offer.
Cherry: Belongs to the rose family, and was used by the Greeks and Romans as long ago as 400 B.C. for furniture making. Cherry helped define American traditional design because Colonial cabinetmakers recognized its superior woodworking qualities. It has a rich red-brown color that deepens with age and exposure to sunlight. Its exceptionally lustrous appearance almost glows. It's straight-grained and satiny, and sometimes contains pin knots and gum pockets that give the wood a distinctive character. Its more uniform texture takes a stain very well. Cherry is light, strong, stiff and rather hard. Cherry may have mineral streaks and pin burls, and will darken noticeably with age. Sapwood may appear in profiled areas.
Maple: Interestingly, until the turn of the century, the heels of women's shoes were made from Maple, as were airplane propellers in the 1920s. Maple has been a favorite of American furniture makers since early Colonial days. Maple coloring ranges from cream to light reddish-brown, with a uniform grain and texture. Maple is heavy, hard, strong, tough and stiff with excellent resistance to abrasion and indentation – ideal for a kitchen chopping block or counter. Its uniform surface takes a stain well. Maple may have mineral streaks or dark areas, especially in profiled areas.
Oak: Oak has a long, distinguished history in furnishings and interior design. Oak was a favorite of early English craftsmen and a prized material for American colonists. Red oak grows only in North America and is found further north than any other oak species. A red oak grows slowly, taking 20 years to mature and living an average of 300 years. Red Oak ranges from a white/cream color to a warm, pale brown, tinted with red. The grain is known for its "rays," which reflect light and add to its appeal. Depending on the way the logs
Wood Characteristics
Nature's little variations
Like all natural materials, wood comes with subtle variations in graining, knots and coloration. These individual distinctions are all part of the charm and beauty of natural wood. Over the years, wood will darken some or lighten a bit as it ages and is exposed to light, both natural and manmade.
Expansion and Contraction
Because every home climate is different, when your cabinetry comes home, it'll need some time to adjust to its new environment. Some shifting of doors may occur due to wood's tendency to expand and contract with temperature and humidity changes. Fear not - and fix not. This is normal. In a month or two, your cabinetry will feel and look right at home. However, on the outside chance that your cabinetry does not become fully acclimated to your home, simply contact Jackson Cabinetry, and we'll take it from there.